In the following interview, we meet Daniel, Jean-Manuel and Yoann, the co-founders of Ivy Partners to learn about their vision for the firm, their plans for the future, discuss entrepreneurship and much more.
What motivated you to found Ivy Partners?
Yoann: It was crucial for me to establish a consulting firm that reflected my values. The core pillar of Ivy Partners is based on one basic principle: a people-first approach. We want to develop a lasting partnership based on trust, professionalism, and transparency with our clients. We also strive to provide our teams the support they deserve and offer them a career that will bring them fulfilment, growth, and hopefully, great pride.
Jean-Manuel: People are indeed the essence of our project. We knew that we had to make it our strength. Our goal was to succeed through the quality of our advice and expertise and our human approach. So we worked on a new vision to consulting: A true crossroads between HR and IT.
Daniel: My goal with Ivy Partners was to create a company that combines strong human values with technical expertise and a spirit of innovation. I am delighted to have found partners who share the same values and with whom I realized this fantastic project.
Why did the three of you become partners?
Yoann: No project, no firm, can be successful without teamwork. We all believe in this fundamental principle. If the common base of our expertise lies in our experience in IT consulting, our network and our expertise are complementary.
I have a solid IT background and experience in managing business units in international environments. Jean-Manuel has a vast local network (French-speaking Switzerland) in IT consulting with large corporations. Daniel has proven himself as a coach and manager with extensive know-how in developing international IT consulting groups.
Although we all share a common background in IT consulting, we have each taken our own path to get there. As a result, our different experiences fit together perfectly and we felt that we had what it takes to create a global consulting group that puts people first.
Jean-Manuel: Each of us has common and complementary visions and values: Yoann represents rigor and technique, Daniel embodies structure and vision, and I represent loyalty and passion.
What is the unique proposition that Ivy Partners offers in terms of value?
Yoann : Ivy Partners is built on the idea of value co-creation. Our ability to provide 4 complementary services is our strength. We want clients to choose Ivy Partners for its ability to accompany them from start to finish on their project, from the audit of the current situation to the ideation of solutions, from the search for talent to the implementation of the solution.
We have identified 4 strategic areas where we stand out:
The ability to find the best talent that meets our clients' requirements.
Supporting our clients at a more strategic level in consulting and deployment strategy. Our experience as CEOs of leading IT companies allows us to speak a common language with executives and management teams to deliver solutions that bring value.
Developing customized solutions that meet the specific needs and challenges of our clients.
Offering a unique and innovative ecosystem of solutions based on the latest technologies such as AI, blockchain, RPA and cybersecurity.
We provide our clients with the same range of services as a Big 4 while maintaining a small- medium-sized company's flexibility, agility, and responsiveness. Our signature lies in our fundamental desire to put people at the heart of our commitments. Supporting, encouraging, and developing the skills of our team of talents is vital to us. We want to offer our consultants a career and an environment that will allow them to grow both personally and professionally.
Daniel: Our DNA! Ivy Partners is not a demand-driven consulting firm. Instead, we aim to establish a genuine and strong partnership. The concept of partner guarantees risk sharing, proximity, and a mutual desire to succeed. Our ability to understand the needs of each client, to provide them with tailor-made solutions and to capitalize on our know-how makes us the ideal partner to accompany our clients in their transformation and their challenges.
Jean-Manuel: This commitment to our values also allows us to attract the most talented individuals in the market looking for challenges with prestigious clients or large-scale projects. Our development and training strategy demonstrates our commitment to attracting and retaining the best and brightest professionals with the right mindset.
Daniel: Joining IVY also means becoming part of an incubator of ideas and innovation. We are dedicated to supporting our people and clients in their desire to create new solutions and leverage its best practices to create tomorrow's ideas.
How would you define the culture of Ivy Partners?
Yoann: The culture of the company is based on mutual support and learning. In addition to the focus on career development mentioned above, the firm encourages interaction between consultants. We want to create and maintain a culture of teamwork and collaboration.
Jean- Manuel: I would say the family spirit at Ivy Partners. We are a strong team, and each new person joining the company is welcomed, not as an employee, but as a true "member", with the kindness and support that this implies
Daniel: Our culture is also based on innovation and curiosity in terms of mindset.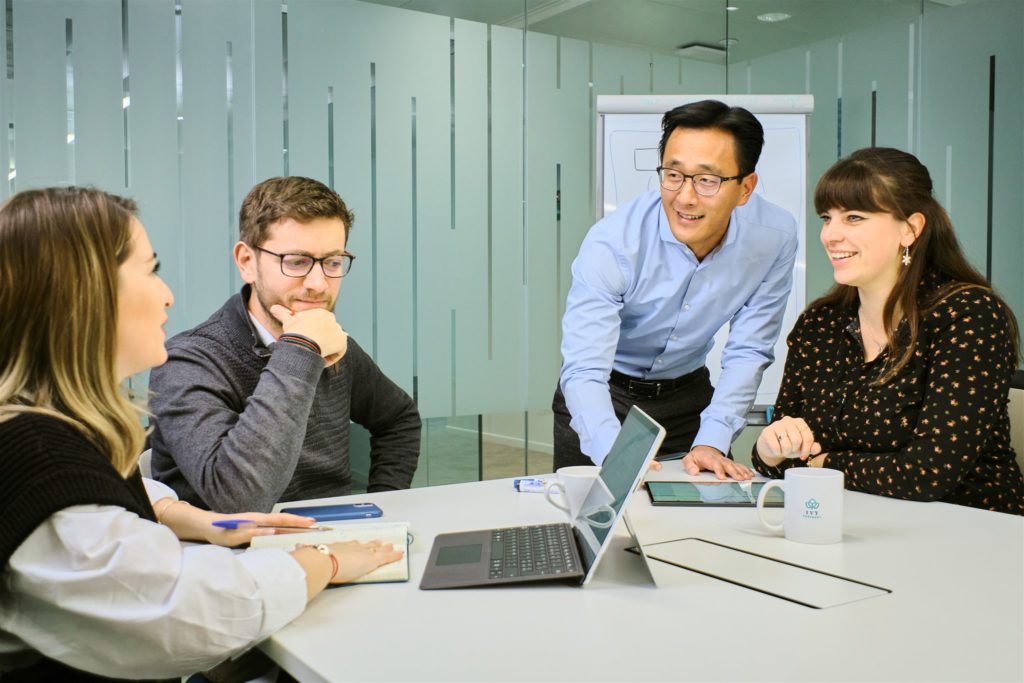 How do you envision the company in the future? What are your goals?
Yoann: My ultimate goal is to build a powerful team dedicated to our clients' projects and vision. We plan to have 300 to 400 consultants and to establish the company internationally in 5 to 10 countries in the next 2 years.
Jean-Manuel: Continuing to grow as a large company while cultivating our core values and transmitting them to the entire team will be our main mission and our greatest challenge.
What qualities do you look for when hiring employees?
Yoann: I have an idealistic vision of an Ivy Consultant: curious, committed and eager to serve a client, a service or a project. An Ivy consultant will bring value to our clients with his/her expertise, ability to listen and being a driving force in improving processes and finding new solutions. We are also looking for people who demonstrate human values and qualities such as a team spirit, a willingness to collaborate and to help each other.
Jean-Manuel: One of the qualities an Ivy employee must demonstrate is a motivation to learn and a drive to excel – a can-do personality – and someone who brings good humor.
Daniel: Dynamism, motivation, a person who inspires confidence. Someone who always goes the extra mile.
The company was founded over a year ago. What are your impressions so far?
Yoann: To be the initiator of such a large project and contemplate each small brick of the wall transforming into a more tangible structure is incredibly empowering and gratifying.
I've had former employees asking to join my new company. I am convinced that the sincerity, honesty, care, and fairness that we show to others (which does not mean tolerating everything) will create a wave of positivism that always comes back in our direction. The opening of our Lisbon office less than a year after its creation was a significant step for us.
Daniel: Seeing the company come together, successfully integrating high-profile clients while being a small, unknown company in the market is remarkable. I am honoured to see talented people trusting us and choosing to join us. It is gratifying to see them grow and positively contribute to their overall fulfilment, wellbeing, and growth.
What are the major challenges the industry is facing?
Yoann: We all agree on the fact that the industry is facing 2 major and entirely related problems:
A conjecture of all industries towards more and more growing needs in IT and process digitalization.
The lack of trained and qualified resources
Therefore, we are observing a pauperization and an "uberization" of the market with both a multitude of companies offering resource search services without any other added value and more and more consultants turning to freelancing due to the lack of a suitable career path offered by a consulting firm.
At Ivy Partners, we believe that it is up to us to offer a work environment that promotes intrapreneurship, by motivating individual and collective initiative and supporting the training of our consultants who are true ambassadors for our group.
This approach allows us to offer more innovative and value-generating services to our clients, such as managed services or strategic partnerships where the risk is shared.
We want to break out of the conventional client-supplier framework to become true advisors and partners with our clients.
What advice would you give to someone who wants to start a business?
Yoann: The key is to start with the right partners. Whether you are a freelancer or in an entrepreneurial venture like Ivy Partners, the choice of a coach, a mentor or an associate is essential. These are the first people who surround you daily, those who are there for the excitement of the first successes, but who must also help and support you during the inevitable moments of doubt. Ivy Partner's strength lies in the complementarity and solidarity of the founding elements. That's why we always evaluate the compatibility of the personality and mindset of candidates with the existing teams.
Jean-Manuel: To be successful, it must be a desire you have had for years. Engaging in entrepreneurship requires total involvement, intense non-stop work, and sacrifices. The beginnings are challenging and require time and energy, but be persistent, keep your motivation intact, and the reward will be immense. Entrepreneurship is about challenging yourself every day.
Click here to learn more about Ivy Partners' values and our services.